These Children's Books Can Help You Talk to Your Kids About Race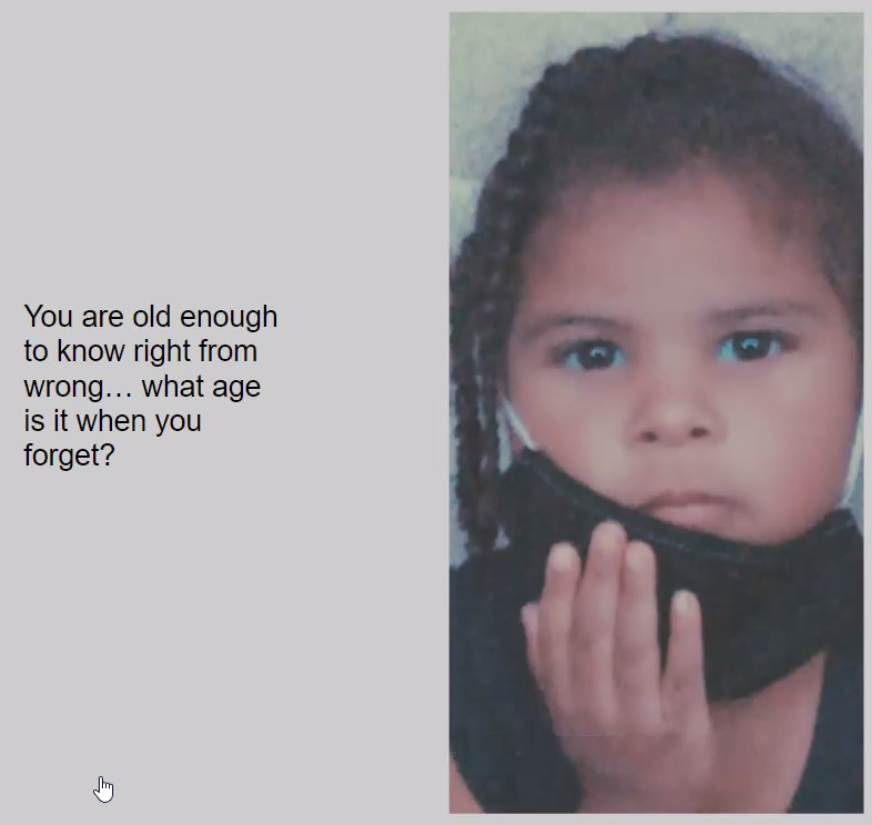 My nephew is a smart kid; he understands how the world has different skin tones. Being a person of color, you have these certain rules you try to follow that a lot of people don't know about. When we walk down the street at night, we're taught to make sure we look down or walk in well-lit areas. My nephew knows these things and he's only three years old. He's old enough to know the rights and wrongs when it comes to BLM and ICE because we are Black and Mexican. What age does he forget what is right or wrong?

'21 Visions student, New School for the Arts & Academics
The above quote and photograph are a response from a student in Visions. In this workshop with photographer Ken Rosenthal, this student was using the medium to memorialize their present time for their future self. This powerful response sparked a heightened awareness about how current events are impacting children and teens, and how it is never too early to talk about tough issues with kids or too late to ignite change when there is injustice. Children are smart, aware, innately curious, and incredibly passionate.
Natalie Marsh, director of Scottsdale Arts Learning & Innovation, met with Bill Kelly, retail services manager for Scottsdale Arts, to help identify resources for parents to navigate issues like racism and social injustice as they strive to instill inclusive values in our future leaders. We came up with a list of children's books to help you have conversations with your kids about what they are seeing in the world.
Antiracist Baby by Ibram X. Kendi — Ibram X. Kendi is a #1 New York Times bestselling author and was named one of the top 100 most influential people of 2020 by Time magazine. This book includes nine steps for building a more equitable world and conversation prompts at the end for parents. Great for ages 4 and up.
Read the book with your children, and use the question prompts at the end to engage them in a conversation about equity.
I Am Enough by Grace Byers — Accomplished actress and author Grace Byers faced bullying as a child. Pulling from that experience, she has written this uplifting book that is geared for kids ages 5 and up, encouraging us to be kind to one another.
My Hair is a Garden by Cozbi A. Cabrera — After a day of being taunted by classmates about her hair, Mackenzie can't take any more and she seeks guidance from her wise and comforting neighbor, Miss Tillie. Using the beautiful garden in the backyard as a metaphor, Miss Tillie shows Mackenzie that maintaining healthy hair is not a chore nor is it something to fear. Most importantly, Mackenzie learns that natural black hair is beautiful.
This beautifully illustrated and well-written story may target younger children, but the topic opens conversations that can reach teenagers and beyond. In the United States, Black hairstyles are not widely accepted. There are many stories of children getting sent home from school or adults being discriminated against on the job because of their hair (source, source, source). In 2019, Dove conducted a survey of hair discrimination that brought awareness to this issue. Legislation, titled the Crown Act, was passed in only six states, leaving a lot more work to do. Engage in a conversation with older children to discuss various forms of discrimination and actions that they can take to remove barriers to equity.
Are Your Stars Like My Stars by Leslie Helakoski — Using colors and poetry, this book helps children consider how we all live in the same world, yet each of us sees it in unique ways.
After reading the story, go back and look closely at the illustrations and look for different colors, objects, and shapes you see. For older children, look at the illustrations and encourage the use of their imaginations by integrating the senses through a series of questions like those that follow. "What does blue smell like?" "What does green sound like?" "How does yellow move?" Allow the questions to guide the discussion toward how we all see things differently and how that makes each of us unique and important.
Of course there are many more books than this, we just wanted to focus on what the Scottsdale Arts stores have in stock for you today. If you are interested in purchasing any of the above links, click on the links or contact Bill at the store or arrange a special shopping experience. Remember, we are never too young (or old) to work together to build a more just society.
---
Back to Spark home.
CONNECTIONS: Amplify | Immerse | Inspire